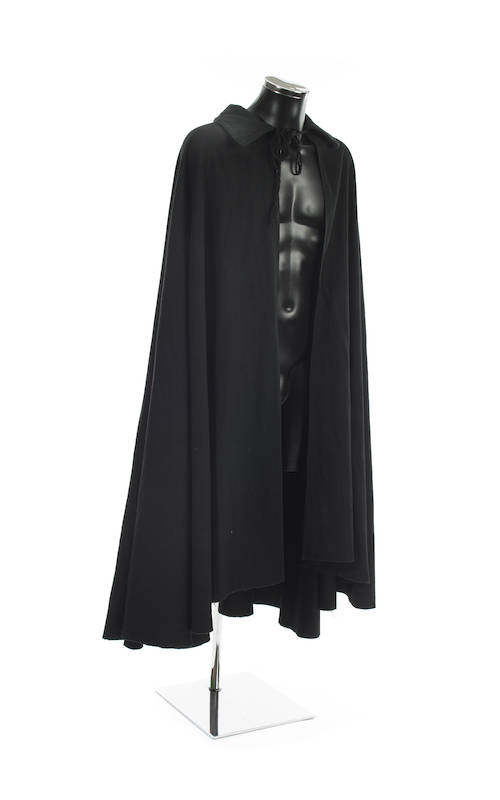 WOW.
Christopher Lee's Dracula Cape is to be auctioned off Tuesday at
Bonham's in London
.
So, what cape are we talking about? We're talking about this one-- seen here in a 1958 trailer for DRACULA.
At article at the Evening Standard has this nice tidbit:
The highest estimate is for the Dracula cape. It was only identified by Lee two years ago after becoming lost in the cavernous Angels warehouse, which has eight miles of clothing rails, in Hendon.

Soon after Dracula was made in 1958 the garment was accidentally mixed up with other capes and hired out, without fanfare, to producers looking to dress extras in medieval or nativity scenes.
Lot details from
the auction page
:
Lot No: 251†W
Christopher Lee as Dracula from Dracula (aka Horror of Dracula),
1958
A black opera style cape, of wool, being full length, with collar, with silk effect rope tie to neck, together with a letter signed by Christopher Lee, on Angels headed note paper, dated 15 May 2007, stating "To Whom It May Concern, This is to certify that the black cape presented with this letter is an original from the Hammer film Dracula - 1958. Christopher Lee", and a still image of Lee wearing the cape as Dracula
Estimate: £20,000 - 30,000
Place Bid or Track Lot
View all items in the Sale
Contact the Specialist to discuss this lot or sale
Email: Stephanie Connell
Tel: +44 (0)8700 273 620
Contact the Specialist to discuss selling in a future sale
Email: Stephanie Connell
Tel: +44 (0)8700 273 620
To subscribe to or order a Printed Catalogue quote ref: 16808
Tel: +44 (0) 1666 502 200
Footnote:
Christopher Lee is regarding by many as the definitive Dracula. This cape featured in the 1958 film, which was Lee's first appearance as the character and is a classic of the Hammer horror genre.
The cape was missing for over 30 years and discovered within the Angels collection in 2007.