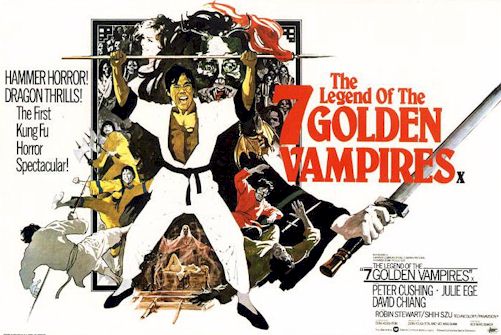 Legend of the Seven Golden Vampires
is one of the movies that strongly influenced SWORD OF DRACULA, not because SOD is all filled with kung fu, but because this movie really started to test the concept of Van Helsing as globe-trotting vampire hunter.
This movie came out in 1974 as part of the "Great Opening" between China and the West-- it may even have been the first Chinese-Western modern film. Hammer hoped it would be the first of a series of traveling Van Helsing movies. I can't help but think what a wacky movie this must have seemed to audiences who had never seen Chinese horror.
Dracula, according to this movie, went to China to found a vampire cult of seven hopping vampires who wear golden masks. Van Helsing is lecturing in the east and is recruited by kung fu star David Chiang to help him and his six siblings to go take back the night. Cushing is great, as always, but who needs him in this movie? The real stars are David Chiang and his six brothers and one sister, each of who specialize in a different martial arts weapon. Sister is my favorite, playing knick-knack on fast-moving kung-fu zombies with her sparkling silver sai. Second favorite is the brother with the silver battle-axes.